Tajuddin apologises for outbursts, says it's his first time in court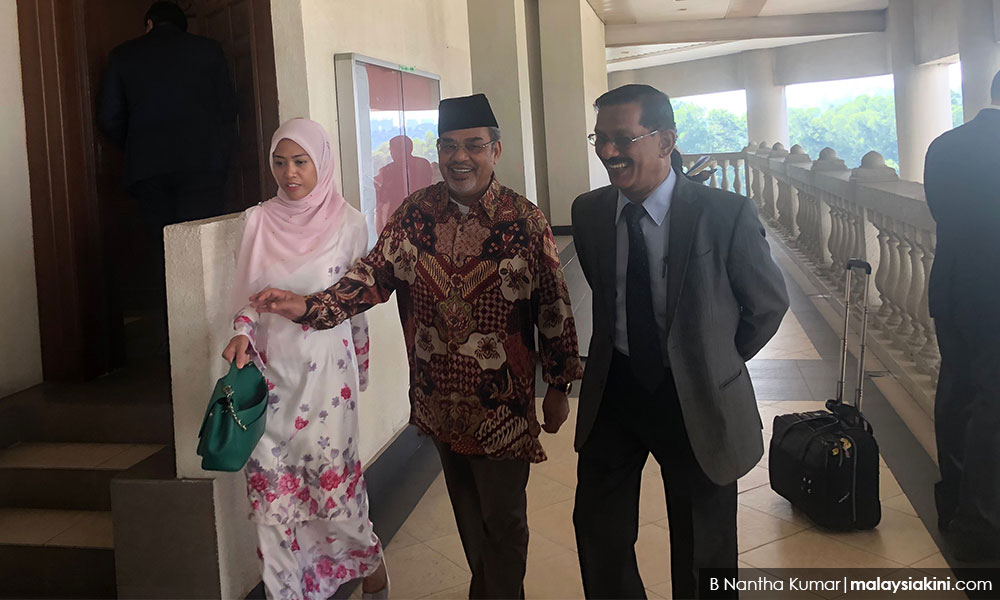 Pasir Salak MP Tajuddin Abdul Rahman today apologised for his outbursts during the trial of his defamation suit at the Kuala Lumpur High Court.
"I apologised to the court as this is my first time in court. I'm not accustomed to it (court procedures)," he said after being reprimanded by Kuala Lumpur High Court judge Aliza Suliaman.
"I ask that YB refers to his lawyer; the court has procedures," Aliza said after Tajuddin repeatedly interrupted the defence when they aired videos relating to his dispute with Federal Territories Minister Khalid Abdul Samad.
Tajuddin is suing Khalid for comments made against him at two press conferences. The conferences were held after a dispute between Tajuddin and Khalid during a Dewan Rakyat proceeding in 2016.
Tajuddin had said that Seputeh MP Teresa Kok was the only MP with a "Kok", prompting Khalid to defend his political colleague and calling Tajuddin "sial". This escalated to a conflict outside the Dewan Rakyat.
Tajuddin is also suing KiniTV Sdn Bhd and New Straits Times Press (M) Bhd (NSTP) for airing Khalid's comments. The news agencies were represented by K Shanmuga and Rueben Mathiavaranam respectively.
During the trial, Tajuddin's first outburst began when the defence was allowed to screen three video clips relating to his dispute with Khalid.
The first video was of the verbal argument in the Dewan Rakyat, which Tajuddin claimed was an edited version.
"If you want to air it, let it be from the beginning. Don't play politics. The video must be complete. It's been edited for your interest," he lashed out at lawyer Sankara Nair, who was representing Khalid.
'Videos one-sided'
Tajuddin's lawyer Hasnal Rezua Merican then tried to calm him down, explaining that the defendants have a right to present their own evidence.
However, Tajuddin protested when a second video was aired, which was of Khalid's first press conference.
The video included Pakatan Harapan MPs condemning Tajuddin for allegedly being uncivilised to women.
"What is this?" said Tajuddin as he glared at his lawyer who asked him to calm down.
However, Tajuddin remained silent when the third video was aired, which showed Khalid's second press conference offering to apologise to Tajuddin apologised to Kok.
Khalid, who was present in court during Tajuddin's outbursts, merely smiled and left the room, stating that he had a meeting to attend.
When Tajuddin was asked by Hasnul to confirm whether the contents of the video were genuine, the Umno lawmaker did not answer the question but complained he was not being allowed to defend himself.
"The videos are unfair; they're one-sided. They should allow me to respond. It's unfair, it portrays something else.
"Yang Arif, I won't allow this issue to be prolonged. This concerns my honour. Don't trivialise this matter," he said.
However, Aliza pointed out that Tajuddin was not answering the question.
Subsequently, Tajuddin apologised to the court, stating that it was his first time.
Earlier, Tajuddin had also brought a copy of Kamus Dewan to explain the meaning of "sial", which the court allowed him to do.
"In English, it means cursed," he said.
Hearing will continue in May when Tajuddin will be cross-examined by Sankara.
https://www.malaysiakini.com/news/465190?fbclid=IwAR1dNI68IhO9mS1x2089YlkVA7I2qGAvMs09uIZZAD-nWY55U2rcPkRKmLs